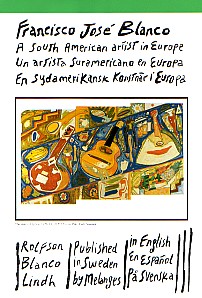 Francisco José Blanco, A South American Artist in Europe.

Information about the artist and the book
F.J. Blanco, born in Venezuela, living in Sweden. Art studies in Caracas, Paris and Stockholm; he works with painting, poetry, textile, drawing, photo, installations, happenings, sculpture and music. Blanco is represented in abut 50 art museums and other cultural institutions in Europe, Asia, U.S.A. and South America. In the already mentioned publication you can read about the development in his oeuvre from the very beginning in Venezuela and the following adventures when he travelled to Europe and other places.
The book contains also pictures and information about Blancos assistants and other artists that he admires or that have been working with him in Europe and South America. This blue-book is the resultat of a dreaming co-operation between Desirée Rolfson, Christina Lindh and F.J. Blanco.
"A South American Artist in Europe" is a good "musical tool" for people who is interested in to know more about the progressive multicultural society; this publication is just a poetical documentation about the adventures implicited in the meeting of new cultures and countries.
Facts about the book
Size: 30*20 cm; Pages: 128; Pictures: 169, in colour and black & white: written in english, swedish and spanish. Authors: Desirée Rolfson, Christina Lindh, and F.J. Blanco. Published by F.J. Blanco (Edition Melanges). Printed in Sweden by Birger Gustafsson AB, Stockholm, year 2001. Copyrights: F. Blanco and Shanti Blanco.
You will find the book in the following National Libraries: The British Library, London; Hawaii Public Library, U.S.A; Libreria Nacional de Venezuela, Caracas; The National Library of Ireland, Dublin; Public Library of Totnes, England; Tate Modern Art Library, London; The Puri Lukisan Art Museum, Ubud, Bali; Kala Academy of Art and Music, Panaji India; La Biblioteca Nazionale de Firenze, Italy; Central Library in Amsterdam; La bibliotheque Nationale de Paris; Central Library of Goa, India; The New York Public Library, U.S.A.; Hardayal Municipal Library in New Dehli, India; International Public Library in Stockholm; The National Art Library (Victoria and Albert Museum), London.